01/04/2021
Hotel Investment Group is a relatively small company when you consider the size of projects they are undertaking in the hospitality industry. With approximately fifteen different properties under management or in development, they were in dire need of a proper CRM platform to help them store the surplus of contacts and information from brokers, lenders, and investors. 
Initially, they had tried housing their information within multiple Excel spreadsheets and individual Outlook accounts. Neither of those solutions worked well and created more complications over time. Prior to the pandemic, HIG had searched for months to find a solution to this problem. The primary drivers of their search and their decision of what would be best for them were: 1.)  The time to value ratio,  and 2.) Finding someone who had an expertise in the real estate market.
"Platinum Cubed's reputation preceded them. They understood our business model and how to solve the challenges we faced."
HIG made a great decision to move forward with a Salesforce platform. Their account executive from Salesforce highly recommended Brittany and the Platinum Cubed team. Brittany and the P3 team took the time to listen to HIG's specific needs and created a solution that checked every box. Though the project kickoff itself was delayed, it felt as if no time had been lost at all once we started back up with Platinum Cubed.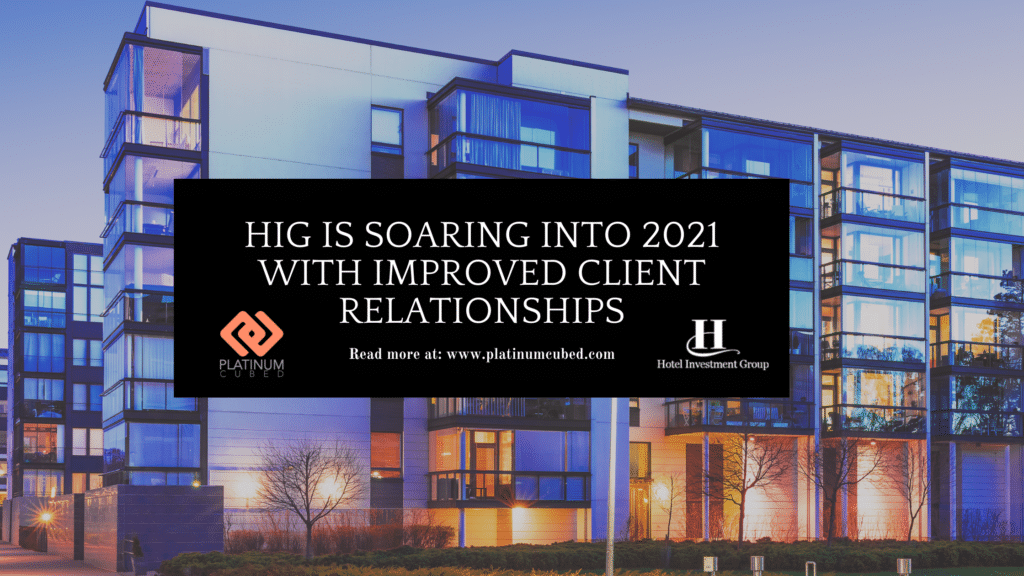 Platinum Cubed excelled at every level!
When HIG began their search, it was vital that they found the best fit who understood their needs and could meet their budget and timelines all at the same time. Platinum Cubed excelled at every level to meet HIG's essential requirements. "Platinum Cubed proposed a 4 week timeline for our project and knew our industry inside out. They completed the project on schedule and on budget."
Now, HIG is soaring into 2021 with improved communication, stronger relationships and tools that will support their growth. 
Today, HIG has Salesforce implemented to provide their employees with the best CRM tools to track interactions, projects, and the rest of the important facets of their business. They are able to have efficient conversations with team members, brokers, investors, and their lenders to ensure that nothing is missed. Thanks to Platinum Cubed, HIG is prepared for the growth they are projecting this coming year!