10/28/2020
Customer relationship management (CRM) systems are complicated. Especially when you don't  understand what it is you're dealing with. On the surface it may seem straightforward and easy to implement. Many go as far as to say their CRM is "intuitive" and "user friendly". Unfortunately, this isn't typically the case.
When you work with clients, communication is vital for success. Whether it be with your client or within your team, you must be able to keep track of what's going on. It could be data, information from conversations with a client, or project tasks, either way you need to have a system to organize your data to improve your workflow and the client experience. There must be a way for you and your team to simply access information at any given time. If your Salesforce it's not working optimally for you it can impact your ability to serve your clients which will impact your revenue!
Creating a CRM that works for your company is essential for success for you, your team, and your customers.
Some companies only consider the specific tasks they need to utilize their CRM for. When implementing their system, they focus on the tasks but don't think about the workflow or the customer experience. This focus leads to poor implementation.
Many business owners think they can implement Salesforce on their own. The assumption is made that if they set up their CRM to complete the tasks, the job will get done and their needs will be met. So, they purchase a platform and navigate the set-up themselves which typically leads to: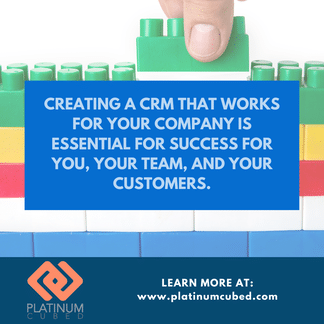 Stressful interactions for clients and team members
Numerous hours wasted
A deterioration of communication within the team
Lost data
Frustrated customers, third party contacts, and employees​
It's like getting a box of LEGO® to build a specific project, like the Millennium Falcon (which has over 7,000 pieces, in case you were interested), but not receiving the instruction book or any guidance to know where each piece belongs. You have all the pieces, but are left to your own devices to create the project they were intended to build. Are you able to create something with your LEGO? Of course, but it won't be anything close to what was intended for those specific pieces. The same is true for your CRM.
You receive a platform with different tools and incredible functions but knowing exactly how to implement those tools can be confusing. Some companies use functions and tools that don't meet their business needs. They assume that since the software is capable of working a certain way that it is best for their company, and there are many times this isn't true. Often it comes down to the simple truth that they just don't understand what it is they're dealing with.
Platinum Cubed provides you the "instruction book" and guidance you've been looking for!
When you team up with Platinum Cubed, we provide you what you need to build a reliable, well oiled CRM that will help you find lasting success, much like the Millennium Falcon did for the Rebel Alliance. We work with you to implement the Salesforce platform to meet your company's specific needs. We refuse to take a cookie-cutter approach to ensure your team's needs are completely met. Don't get us wrong, we have industry best practices we start with, but we modify those base templates to meet your every need.
Not only do we work with you on creating an implementation that fits your needs, but we also work with you through your "go live" process to ensure a smooth transition. We work to facilitate a transition that ensures success and improves your team's workflow so you will provide more value for your clients.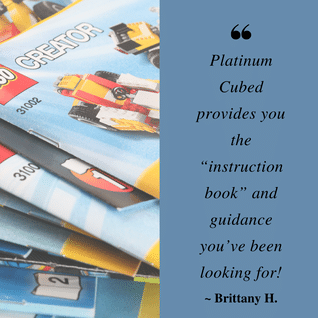 Recently, we completed a project for Homestead Real Estate who were especially concerned about the process of redesigning their Salesforce. In our blog, "A Beacon of Success", we discussed Homestead Real Estates's success working with our team as:
"Platinum Cubed was able to provide a smooth transition with no interruption to the daily running of business. We were also able to provide a positive experience that will leave a lasting impression on Homestead Real Estate guests, owners and their employees." 
You can read more about this client's success here. 
Micah Yerk, Homestead Real Estate Broker Manager stated,
"Honestly – working with Platinum Cubed was an amazing and refreshing experience. I haven't worked with such a professional group of people who stay on task, keep the project organized, foresee and correct potential issues before they happen, and follow up to ensure ease of transition. I wish all vendors and consultants could be like Platinum Cubed. They were amazing!"
​Our team will take the LEGO you were provided and fit them into your company. As an expert in the industry we know how the pieces can fit together to make a streamline project that enables you to serve your clients to the highest potential.​
It's time to unlock your company's full potential!
By teaming up with Platinum Cubed you will receive a resource that works for you, not against you. When your team goes live with your Platinum Cubed Salesforce implementation, some of the benefits your team will experience include: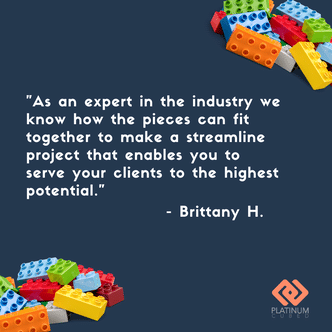 Improved workflow
Improved and more efficient communication
Better results
Happier customers
Organized and accessible data
Does your team need an improved Salesforce? Are you tired of losing hours of productive time each week entering information or searching for data? It's time to create a solution that will work FOR you.
Contact us today to see how we can guide you and facilitate your company's transition to an improved and more efficient Salesforce platform.