04/08/2021
GT Securities focuses on providing financial solutions for companies through the merge and acquisition process. GT Securities not only provides solutions for companies, but for Brokers as well. Their goal is to serve businesses in multiple industries in a way that allows them to navigate mergers and acquisitions with peace of mind. They provide financial solutions for their clients in multiple ways which means they need to have a streamlined process to keep all their clients' information safe, secure and organized.
Old Solutions Bring Old Results.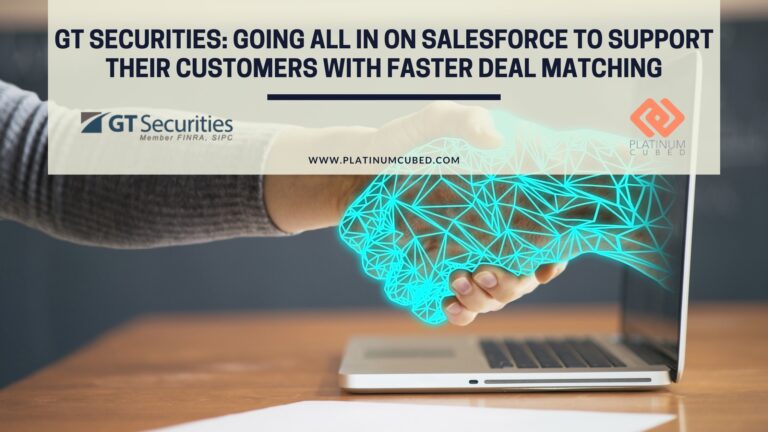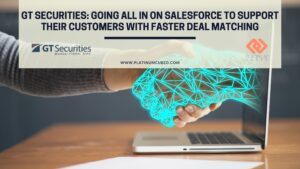 No matter the client, GT Securities acknowledges, and respects, that everyone's needs are different which is why they needed a CRM that was going to work with them, not against them. Previously, GT Securities was living in spreadsheets. In the beginning, this was enough, but now they are scaling up. The time has come that a new solution is needed, and they came to Platinum Cubed for help!
The initial solution was implemented early on when GT Securities was in the early stages and was a much smaller entity. Today, they serve over multiple industries with an aggregated deal size over $10 billion. They need something more sophisticated than spreadsheets and something that provides automation. Something that will fit their needs and help them, and their clients, reach their goals faster.
A Solution That Delivers on Every Promise.
GT Securities provides their clients with the tools and relationships to get their deals done and fast! The new Salesforce solution Platinum Cubed will be implementing will provide GT Securities and their team with just that – tools and innovation to help them, and their clients, the ability to excel in each facet of the merge and acquisition process.
We are implementing a Lead and Opportunity Management tool as well as a robust Compliance application that will allow GT Securities to ensure that every vital aspect of their business is being tracked and adhered to.
Once their new Salesforce solution goes live, GT Securities can expect to:
– Match deals faster for their clients 
– Ensure no one falls out of date on compliance 
– Scale without over growing head count
GT Securities is going all in on implementing a resource that will help their team become more agile and will help cultivate stronger relationships with their clients. This new solution will provide more accountability to team members and will ensure that "the ball isn't dropped" on any level. Lastly, this new Salesforce solution will allow GT Securities to be innovative in their industry and will help them to find new, more creative ways to help transportation companies during these unprecedented times.